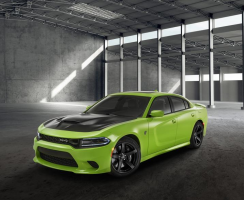 — About 1,100 model year 2019 Dodge Chargers are recalled because the driver-side and passenger-side sun visors are missing the required airbag warning information.
Federal safety standards require vehicles to have labels permanently attached to the sun visors, but FCA (Fiat Chrysler) discovered a 2019 Dodge Charger equipped with a non-U.S. label that was missing the airbag info.
Specifically, the driver sun visors may be missing the airbag warning labels, and the passenger sun visors may contain airbag warning labels intended for non-US markets.
The headliner assemblies which contained no driver-side sun visor warning labels and the passenger-side sun visor airbag warning labels intended for non-US markets were used in the Chargers from May 26, 2018, through February 8, 2019.
Dodge Charger owners have likely been contacted and told dealerships will need to replace both sun visors.
Affected car owners can learn more by calling the automaker at 800-853-1403. Chrysler's recall number is V35.
CarComplaints.com has owner-reported complaints about Dodge Chargers.