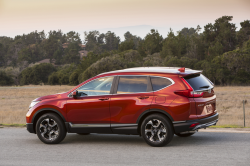 — Honda is recalling about 150 model year 2019 CR-V SUVs due to a risk of fuel leaks and fires.
Honda says the joint weld between the gas tank and vapor return line wasn't properly welded, causing the weld to fail.
The failed weld can allow gas to leak onto an ignition source and start a fire.
About 134 recalled Honda CR-Vs are recalled in the U.S. and 17 are recalled in Canada.
The 2019 Honda CR-V recall is expected to begin in the U.S. September 16, 2019.
U.S. Honda customers may call 888-234-2138 and ask about recall number A5I.
Honda CR-V customers in Canada may call 888-946-6329.
CarComplaints.com has complaints from drivers of 2019 Honda CR-V SUVs and other CR-V model years.