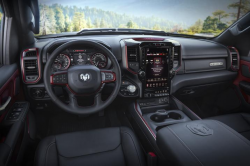 — A 2019 Ram 1500 recall has been issued for more than 182,000 trucks that may have problems related to the power steering. The good news is nearly one-third of the 1500s are still on dealer lots.
The bad news is the fact another automaker has recalled vehicles that just recently left the assembly lines.
Fiat Chrysler (FCA) says an internal investigation indicates possible problems with the battery circuit fasteners that may not have been properly secured in trucks built after October 25, 2018.
A loose connection can lead to an open electrical circuit that can cause power steering to come and go on an inconsistent frequency. A driver won't lose the ability to steer the Ram 1500 but Chrysler says oversteer and understeer conditions may cause problems.
The automaker says no crashes or injuries have been reported tied to the Ram 1500 power steering problems, but to keep it that way dealerships will need to tighten the fasterners.
Nearly 160,000 of the trucks are in the U.S., nearly 18,700 are in Canada, another 407 Ram 1500s are in Mexico and more than 3,400 recalled trucks are outside North America.
If you own a 2019 Ram 1500 and have questions, contact FCA at 800-853-1403.
CarComplaints.com has complaints from drivers of 2019 Ram 1500 trucks, including about power steering problems.