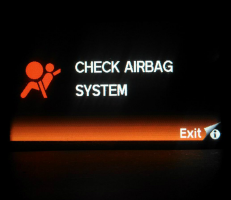 — Honda is recalling more than 19,000 vehicles with front passenger Takata airbag inflators that may have been installed incorrectly during replacement.
2009-2014 Acura TSX
2011-2013 Acura TSX Sport Wagon
2010-2012 Acura ZDX
2008-2012 Honda Accord
2010-2011 Honda Accord Crosstour
2012-2014 Honda Crosstour
2006-2011 Honda Civic (Includes Civic Hybrid and Civic NGV)
2007-2011 Honda CR-V
2009-2013 Honda Fit
2010-2013 Honda Insight
2009-2015 Honda Pilot
The passenger inflators were installed as replacements during previous recall repairs at numerous dealerships before May 2018. An airbag inflator that wasn't installed correctly won't deploy properly in a crash.
The recall is expected to begin June 28, 2019, when Honda and Acura dealers will replace any affected passenger frontal airbag module assemblies.
Customers who want to learn more should call 888-234-2138.