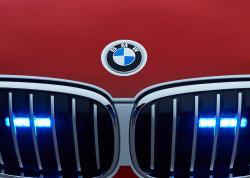 — BMW is recalling more than 15,400 vehicles after trying for the past few years to get permission to skip the recall. But according to the government, seat belt problems will need to be fixed in the following vehicles.
2016-2017 BMW X1 sDrive28i
2016-2017 BMW X1 xDrive28i
2016-2017 MINI Cooper Hardtop
2016-2017 Mini Cooper S Hardtop
2016-2017 MINI Cooper Clubman
2016-2017 MINI Cooper S Clubman
2016 BMW 528i
2017 Rolls-Royce Ghost
BMW says an occupant could be injured in an event where heavy braking is applied because the emergency locking retractor may activate when an occupant is leaning forward in the seat during braking.
BMW has known about the seat belt problem since at least 2016 when the emergency locking function of a front left seat belt didn't work properly during vehicle brake testing. Engineers determined there may have been problems with one or both emergency locking retractor mechanisms.
The supplier said there was a deviation in the molding process which could interfere with the triggering of the sensitive mechanism of the emergency locking retractor.
BMW checked federal safety standards and determined the seat belt problem may violate those standards. However, the automaker didn't believe the problem was serious enough for an official recall.
BMW submitted a petition for "inconsequential noncompliance" in November 2016, but on May 1, 2019, the National Highway Traffic Safety Administration (NHTSA) denied the petition.
BMW dealers will replace the driver's seat belt assemblies when the recall begins July 2, 2019.
Owners may contact BMW customer service at 800-525-7417.