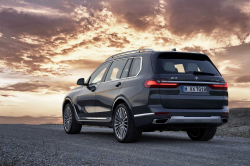 — BMW is recalling nearly 2,000 new X7 vehicles because the driver and passenger head airbags may not have been installed properly.
The 2019 X7 xDrive40i and X7 xDrive50i vehicles need the head airbags reinstalled by dealers.
About 1,822 of the BMW vehicles are recalled in the U.S. and 120 are recalled in Canada.
Specifically, the head airbags may not have been aligned within the vehicle trim according to specifications, causing the airbags to fail or deploy improperly in a crash.
BMW found the problem in March 2019 during quality checks on two vehicles at the assembly plant. The automaker believed the number of affected vehicles was very small, but an engineering review was opened to determine if the airbags violated federal standards.
Engineers looked at internal crash tests performed on the X7s which convinced the automaker to issue the recall.
According to BMW, there have been no reports of crashes or injuries related to the head airbags.
The 2019 X7 xDrive40i and X7 xDrive50i recall is expected to begin July 15, 2019. Concerned owners should call BMW at 800-525-7417.