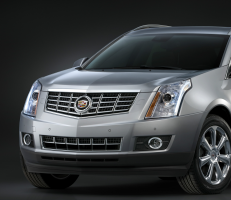 — A Cadillac SRX headlight class action lawsuit alleges the lights have seals that allow moisture to ruin the headlights, causing them to become dim and finally fail.
According to the plaintiff, 2010-2015 SRX SUVs have the headlight problems that are caused not only by the seals but by air vents that interfere with the proper flow of air.
Customers complain about headlights that suffer from condensation problems from the allegedly defective seals that create moisture that leaves drivers blind at night. General Motors allegedly knows about the SRX headlight problems that can cause electrical short circuits.
According to the class action lawsuit, GM has sent technical service bulletins to Cadillac dealers informing technicians what to do if customers complained about the headlights.
The automaker also created a customer service program for SRX drivers, but the plaintiff claims repairs by dealers are useless because defective parts are replaced by the same defective parts.
Cadillac SRX owners complain that replacing the headlights and components is an expensive job with some dealerships charging more than $1,500 per headlight.
"Spoke to customer service representative at Cadillac who informed me since my vehicle is out of warranty I will have to cover the cost to replace the headlight. Dealership gave me a quote of $1640 plus tax to replace driver's side headlight. While my husband was in the dealership talking with a rep he overheard another customer complaining about the same problem."
"I am having to pay $1800 for the second time to have the headlight replaced because of condensation. Based on all the accounts there should be a recall."
"I can't drive my car at night because the headlight lens are so fogged up it does not let the light come through to see what is in front of me. I've been pulled over twice and the cops told me they thought I was driving at night with just my driving lights on and warned me to get it fixed. The dealer told me it's common with this car and said it will cost me $2300.00 to get it fixed."
Other lawsuits have been filed against General Motors over the years by attorneys representing customers who allegedly suffered headlight problems in their SRX SUVs.
A class action for California and Florida SRX customers offered them reimbursements for certain repairs made because moisture affected the headlights. The lawsuit was initially filed as a nationwide class action but the judge certified the case for only the two states.
The Cadillac SRX class action lawsuit was filed in the U.S. District Court for the Eastern District of Missouri - Truesdell, et al., v. General Motors LLC.
The plaintiff is represented by the Law Office of Richard S. Cornfeld.
CarComplaints.com has complaints about Cadillac SRX SUVs.