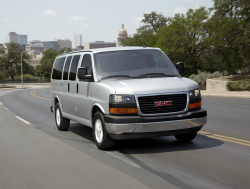 — Chevrolet Express and GMC Savana vans are recalled because the rear-quarter windows may be tempered instead of laminated.
More than 1,100 of the 2016-2019 vans don't comply with safety standards if the glass isn't laminated.
General Motors says one or both rear-quarter windows may be affected, a problem that could create additional safety hazards in rollover or side impact incidents.
The automaker says tempered glass was mistakenly listed in GM's part release system for the left rear-quarter glass in long wheelbase vans, and for both the left and right rear-quarter glass in short wheelbase vans.
A GM engineer discovered the problem in March 2019 which led to GM opening an internal investigation that showed the Chevrolet Express and GMC Savana vans were built with the wrong glass going back to model year 2016.
About 1,160 vans are recalled in the U.S. and another eight vehicles are recalled in Canada.
General Motors doesn't know when the recall will begin, but dealers will replace the tempered glass with laminated windows.
Savana and Express owners may contact GM at 586-596-1733 and use recall number N192218960.
CarComplaints.com has owner-reported complaints about Chevy Express and GMC Savana vans.