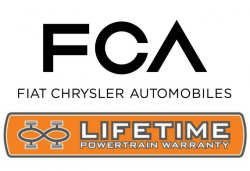 — A Chrysler lifetime powertrain warranty class action lawsuit will continue, although in a different court on a different side of the country.
The class action lawsuit was filed in 2018 by Wendy Hightman who purchased a new 2007 Jeep Patriot covered by a lifetime powertrain warranty. However, the plaintiff claims she wasn't provided details about the warranty until after she bought the Jeep.
In addition, none of the warranty booklets or advertisements said the lifetime powertrain warranty could be completely cancelled if the owner didn't follow certain rules.
In March 2017, the plaintiff brought her Jeep to a California dealer because of a whining sound coming from the transmission, a problem caused by a leak in the right axle. Fiat Chrysler (FCA US) technicians repaired the problem and allegedly performed a 16-point inspection, and everything was covered by the warranty.
In July 2018, Hightman took the Jeep to a dealership because the check engine light was on, a problem blamed on a bad gasket. But Chrysler refused to cover the cost of repairs under warranty because the plaintiff allegedly didn't follow the maintenance inspection terms.
FCA said that although the Jeep did go through a second powertrain inspection, it didn't occur within 60 days of the second 5-year purchase anniversary, voiding the lifetime warranty.
The automaker filed a motion to dismiss the class action by arguing the case should be transferred to the original court that handled Chrysler's 2009 bankruptcy. Chrysler also says the class action should be dismissed because the plaintiffs fail to state a claim which makes all the claims not legally viable.
Chrysler says the District Court for the Southern District of New York is in the best position to enforce the meaning of the bankruptcy sales order considering the plaintiff bought her Jeep prior to the bankruptcy.
The judge ruled "the interests of justice strongly favor transferring the case to the district where the bankruptcy proceedings continue." The judge also ruled there is no reason to believe either party will be prejudiced by transferring the case because the New York court can easily transfer it back to California.
All of that will be determined by the viability of the claims made against Chrysler.
Because the judge granted Chrysler's motion to transfer the lawsuit, the automaker's motion to dismiss the remaining claims is denied "without prejudice with leave to refile after the Southern District of New York Bankruptcy Court has had an opportunity to interpret and enforce the June 2009 Sale Order..."
The Chrysler lifetime powertrain warranty class action lawsuit was filed in the U.S. District Court for the Southern District of California, and now transferred to the U.S. District Court for the Southern District of New York - Hightman, et al., v. Fiat Chrysler US LLC, et al.
CarComplaints.com has complaints about Chrysler, Dodge and Jeep vehicles.