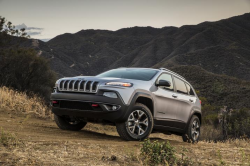 — Chrysler is recalling its 2014 Jeep Cherokee SUVs equipped with 3.2-liter engines because the transmissions may unexpectedly shift into neutral.
Fiat Chrysler (FCA) says the transmission software may shift the transmission into neutral if the clutch gets stuck in the transmission.
The automaker says 91,650 Cherokees are affected by the recall, something that allegedly can be fixed by updating the transmission software.
Chrysler opened an internal investigation in May 2019 after hearing from engineers about transmissions shifting into neutral.
Engineers found a stuck valve in the transmission valve body can prevent clutch deactivation and result in a transmission-commanded shift to neutral. This will cause the Cherokee to suddenly lose the ability to continue forward no matter how fast the SUV is traveling.
FCA doesn't know of any crashes or injuries related to the transmission problem, but hundreds of field reports and more than 3,000 warranty claims have been received.
In the U.S., 81,165 Cherokees are recalled and another 10,485 SUVs are recalled in Canada.
The 2014 Jeep Cherokees were built in Toledo between February 27, 2013, and July 11, 2014.
The recall is expected to begin August 2, 2019, but Cherokee owners may contact Chrysler at 800-853-1403. Chrysler's number for this recall is V69.