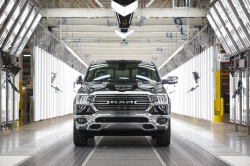 — Chrysler says it will buy back specific 2019 Ram 1500 trucks equipped with a 12" touchscreen displays and base-level heating, ventilation and air conditioning systems.
The automaker says only 15 trucks are involved, but Chrysler won't even try to repair the problems.
The combination of the 12-inch touchscreen and base-level heating and cooling causes a complete loss of windshield defrosting and defogging.
The recall will begin March 15, 2019, when dealerships will repurchase the new Ram 1500 trucks.
If you believe you own one of the trucks, call Chrysler at 800-853-1403 and refer to recall number V12.
CarComplaints.com has complaints from drivers of 2019 Ram 1500 trucks and other model years of Ram 1500s.