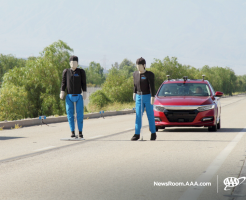 — Automatic emergency braking with pedestrian detection is marketed as safety technology, but research from the AAA Foundation for Traffic Safety found the systems didn't do much at all.
And at night the technology did nothing to prevent crashes with pedestrians, a bad sign considering 75% of pedestrian deaths occur at night.
According to the National Highway Traffic Safety Administration:
"A pedestrian automatic emergency braking (PAEB) system is an emerging safety technology that provides automatic braking for vehicles when pedestrians are in the forward path of the vehicle's travel and the driver has taken insufficient action to avoid an imminent crash."
About 6,000 pedestrians are killed each year in the U.S., so the prospect of technology to reduce those fatalities is seen as promising.
AAA researchers used four midsize sedans equipped with automatic emergency braking with pedestrian detection (2019 Chevy Malibu, 2019 Honda Accord, 2019 Tesla Model 3 and 2019 Toyota Camry) and put them on a closed course using simulated pedestrians.
The best results involved a car doing 20 mph during the day with an adult crossing the road, but even then the braking/pedestrian systems avoided collisions only 40% of the time. By taking the speed of the car to 30 mph, most systems completely failed to avoid the pedestrian target.
That may sound bad, but other driving scenarios were even more challenging for the braking systems.
AAA provided the following depressing results.
A collision occurred 89% of the time with the car traveling 20 mph when a child ran out from between two vehicles.
All of the test vehicles collided with the adult pedestrian after the car made a right-hand turn.
When approaching two adults standing alongside the road and with the vehicle traveling 20 mph, a collision occurred 80% of the time.
The systems were generally ineffective in all situations where the vehicle was traveling 30 mph.
At night, none of the systems detected or reacted to the adult pedestrian.
According to researchers at the AAA Foundation for Traffic Safety, automakers have the right intentions in creating automatic emergency braking with pedestrian detection systems. But the technology has a long way to go before drivers and pedestrians can feel relatively safe.