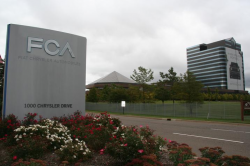 — Fiat Chrysler (FCA US) is recalling more than 1.6 million vehicles to replace Takata passenger frontal airbag inflators at risk of exploding in crashes.
About 1.4 million of the vehicles are in the U.S.
2010 Dodge Ram 3500
2010 Dodge Ram 4500 / 5500
2010-2011 Dodge Dakota
2010-2014 Dodge Challenger
2011-2015 Dodge Charger
2010-2015 Chrysler 300
2010-2016 Jeep Wrangler
Chrysler is unaware of any crashes or injuries related to the airbags in the recalled vehicles.
In addition to the 1.4 million vehicles in the U.S., more than 88,800 vehicles are recalled in Canada, another 12,821 in Mexico and more than 118,000 are recalled outside North America.
Dealers have plenty of replacement parts but FCA didn't release information about when the Takata recall will begin.
Customers with questions should call 800-853-1403.
CarComplaints.com has complaints about the models affected by the Takata airbag recall.