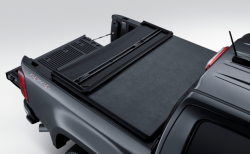 — A GM tri-fold soft tonneau cover recall has been ordered for nearly 7,200 Advantage tonneau covers that were sold for 2019-2020 Chevrolet Silverado 1500 and GMC Sierra 1500 trucks.
GM didn't explain much, but apparently Chevy and GMC truck owners were installing the Advantage tri-fold bed covers incorrectly because the "original instructions may be difficult to follow."
Those soft covers can detach from the trucks and damage other vehicles or cause road hazards, something that can allegedly be fixed by giving truck owners tether kits, improved installation instructions and additional labeling.
GM doesn't know when the tri-fold soft tonneau cover recall will begin, but Chevy Silverado 1500 owners may call 800-630-2438, and GMC Sierra 1500 truck owners may call 800-462-8782.
The bed cover recall number is N192261860.
CarComplaints.com has complaints about Chevrolet Silverado 1500 trucks and GMC Sierra 1500 trucks.