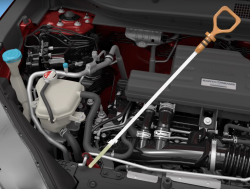 — Honda Civic and CR-V oil dilution problems have caused Honda to extend the powertrain warranties on more than 1 million cars and SUVs in the U.S.
The action was taken after customers complained of fuel mixing with the engine oil, with some claiming their Civics and CR-Vs suffered from engine damage.
The powertrain warranty extensions cover 2016-2018 Honda Civics and 2017-2018 Honda CR-V EX, EX-L and Touring SUVs equipped with Earth Dreams 1.5-liter engines.
In Honda service bulletins 19-037 and 19-038, the automaker says the vehicles may suffer from "driveability issues" that are likely to trigger certain diagnostic trouble codes.
P0300 (Random misfire detected)
P0301 (No. 1 cylinder misfire detected)
P0302 (No. 2 cylinder misfire detected)
P0303 (No. 3 cylinder misfire detected)
P0304 (No. 4 cylinder misfire detected)
P0172 (Fuel system too rich), or a whirling noise coming from the engine compartment
According to the automaker, the powertrain warranties on the camshafts, rocker arm assemblies and spark plugs are extended from the original 5 years/60,000 miles to 6 years with unlimited mileage from the original sale dates of the vehicles.
Honda representative Chris Martin says the warranty extensions cover CR-Vs and Civics in all 50 states, but Honda still believes oil dilution problems are "extremely rare," especially outside areas of extremely cold weather.
The automaker already has a program for about 239,000 vehicles in 21 states that involves a software update to help the engines warm up faster during cold weather. By causing the engines to warm up faster, Honda says fuel combustion will be improved to prevent fuel from mixing with the engine oil.
Additionally, dealers in those 21 states will also change the oil and in some cases the air conditioning control units will be replaced.
Honda says in cold weather states where vehicles have suffered oil dilution problems before the vehicles had the software updates installed, the warranty extensions will give customers more time for undetected engine damage to arise and be covered by the warranty.
Mr. Martin further says various oil levels in the Civics and CR-Vs in most cases are normal and do not cause damage to the engines.
Dealers are ready now to repair affected vehicles, but Honda Civic and CR-V customers will also be notified by mail about the powertrain warranty extensions.
Honda CR-V and Civic owners who have questions should call their dealerships or 888-234-2138.
CarComplaints.com has owner-reported complaints about the Honda CR-V and Honda Civic.