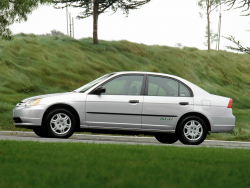 — A 2002 Honda Civic driver in Arizona is at least the 25th death worldwide caused by an exploding Takata airbag inflator.
Armando V. Ortega, 55, was injured in the June 8, 2018, crash near Buckeye, Arizona.
Mr. Ortega died three days later in the hospital from injuries caused by pieces of metal that shot from the airbag inflator.
It's the 14th confirmed U.S. fatality caused by Takata airbags in Honda vehicles, adding to a toll that also includes more than 200 injuries caused by the airbags installed in Honda models.
Investigators with the National Highway Traffic Safety Administration (NHTSA) joined inspectors from Honda to verify the cause of Mr. Ortega's death in the Civic, a car that had been recalled to replace the driver-side frontal airbag.
According to Honda, the 2002 Civic was first recalled in December 2014 to replace the driver's Takata airbag inflator, but the vehicle was never been repaired. The automaker claims it mailed 12 recall notices to the previous registered owners prior to the crash and placed more than 20 phone calls to convince the owners to repair the Civic.
Mr. Ortega bought the car less than three months before the crash and Honda had no clue the ownership of the car changed, meaning Ortega didn't receive a recall notice as owner of the car.
According to the automaker, there is no legal requirement that sellers or any other parties contact someone at Honda and tell them about a change of ownership.
Honda has went to extremes to convince owners to get their Takata airbag inflators replaced and underlines the fact it has plenty of replacement parts for all recalled Acura and Honda vehicles in the U.S.
If you drive a 2001-2003 Acura or Honda, the Takata airbag inflators on those model years are at a high risk of exploding and killing occupants. Make sure your vehicle is safe by grabbing your vehicle identification number and heading to www.recalls.honda.com or www.recalls.acura.com.