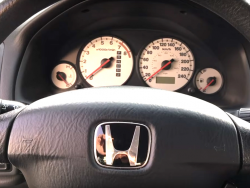 — Honda's Takata airbag woes have caused the automaker to physically knock on the doors of customers about 600,000 times to find owners who haven't had Takata airbag inflators replaced in their vehicles.
According to Executive Vice President of Honda, Rick Schostek, the Takata recalls are unlike anything the automaker has witnessed before, leading to the extraordinary measures the automaker continues to take.
Schostek was questioned by members of the U.S. Subcommittee on Consumer Protection, Product Safety, Insurance and Data Security in relation to dangerous airbag inflators Honda calls the "Alpha" inflators in these older vehicles.
2001-2002 Honda Accord
2001-2002 Honda Civic
2002 Honda CR-V
2002 Honda Odyssey
2003 Honda Pilot
2002-2003 Acura 3.2 TL
2003 Acura 3.2 CL
The Takata inflators contain ammonium nitrate, the propellant used to deploy the airbags in a crash. However, the chemical is unstable when exposed to moisture and even a fender-bender can cause the metal inflator to explode, like taking a grenade to the face.
To date, about 50 million inflators are recalled in the U.S., a number that may grow to 70 million by the end of 2018, and about 18.5 million of those inflators are in 11.9 million Honda and Acura vehicles.
No other automaker has been hit as hard as Honda when it comes to deaths attributed to Takata inflators. At least 13 people have been killed in Honda vehicles in the U.S. alone, including in a vehicle that wasn't originally equipped with a recalled inflator. In that specific case, Honda determined the driver was killed by an airbag inflator salvaged from a wrecked vehicle.
According to the automaker, it has purchased more than 119,000 inflators from salvage yards to prevent more salvaged airbags from exploding.
In addition to going door-to-door with about 550 teams of representatives, Honda says it has made more than 35 million phone calls to customers and sent more than 1 million text messages, trying to convince owners to get the vehicles repaired.
Honda also says it has flooded newspapers and radio stations with announcements in southern states where the inflator risk is greatest due to heat and humidity.
Based on nearly 1.1 million vehicles recalled with the higher risk Alpha inflators, the automaker says about 62,000 remain to be repaired, a completion rate of 94 percent. Honda says all its work has paid off considering researchers claim the completion rate for older vehicles typically is about 33 percent.
To prevent an event like this from ever occurring again, Honda advises safety recall regulations should be updated to require that recalls be completed before the vehicles can be registered to drive by owners.
To check if your Honda or Acura vehicle needs the airbag inflators replaced, grab your vehicle identification number (VIN) and visit www.recalls.honda.com or www.recalls.acura.com.