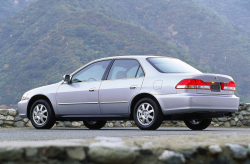 — A salvaged Takata airbag installed in a 2002 Honda Accord shouldn't have injured 18-year-old Karina Dorado because the airbag shouldn't have been in the 2002 Accord in the first place, says a lawsuit filed in Nevada.
Honda says the 2002 Accord involved in the crash was included in airbag recalls in 2008 and 2014 to replace driver's side Takata airbag inflators.
Honda calls these the "Alpha" inflators because they are the oldest Takata inflators and have a 50 percent chance of exploding.
The original inflator was replaced under a recall in February 2012, then that inflator was replaced in January 2015. Both replacement repairs were performed by authorized Honda dealers, yet the inflator that exploded and nearly killed Karina Dorado wasn't one of those inflators.
The lawsuit goes into the specifics of how the Takata airbag allegedly ended up in the Accord, starting with a company called Nevada Pic-a-Part that purchased a 2001 Honda Accord for the parts. Two other Nevada companies, Havanna Corporation and D&A Bodyworks LLC, bought at auction a crashed 2002 Accord that had been wrecked in Arizona and determined to be a total loss.
According to the lawsuit, the airbag from the 2001 Honda Accord, which had previously been recalled in 2015, was sold by Pic-a-Part to D&A Bodyworks and Havanna. The airbag assembly was then installed in the 2002 Accord, which was then sold to Karina Dorado's father a year before Karina was involved in the crash.
The lawsuit says Dorado was driving the 2002 Accord when it was struck by another vehicle, causing the Takata airbag to deploy and explode. Dorado suffered shrapnel wounds to her neck that altered her voice and left her with scars.
Federal safety regulators have no authority over the sale of used vehicles and there is nothing illegal about yanking airbags from salvaged cars and selling those airbags to repair facilities. However, a 2000 law does indicate that selling a recalled airbag or car part is illegal, but no agency monitors the issue and it appears the law hasn't been enforced the past 17 years.
Honda says it has bought thousands of Takata airbags from salvage yards to get the airbag inflators off the streets, but with no official agency tracking the sale of salvaged parts, it's impossible to know how many recalled inflators are out there floating around.
The airbags are responsible for at least 19 deaths and 200 injuries, most of those occurring in Honda vehicles. A minor crash can cause the metal inflator inside the airbag to explode like gunpowder and launch metal into and through occupants.