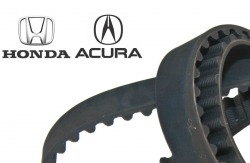 — A Honda timing belt recall has been issued for nearly 104,000 vehicles in Canada and the U.S. because the timing belt teeth may separate from the belts and cause the engines to stall.
Recalled are 2018-2019 Acura MDX and Honda Pilot vehicles, 2019 Acura RLX, RLX Sport Hybrid and Acura TLX vehicles, and 2019 Honda Odyssey and Ridgeline vehicles.
Honda says the timing belt supplier started using additional production molds in May 2018 to increase capacity, and by August the automaker was receiving claims about defective timing belts.
The supplier confirmed the timing belt teeth could separate from the belts because they weren't hardened properly during manufacturing. More tests were conducted and the supplier determined a certain mold was used that didn't allow the timing belts to harden.
As of April 4, 2019, American Honda has received 15 warranty claims, 15 field reports but no reports of crashes or injuries related to stalled engines.
About 94,000 of the vehicles are in the U.S. and another 9,800 are located in Canada, and all the vehicles will have their timing belts replaced if technicians see any problems during inspection. Dealerships will also check for any damaged engine components and replace damaged parts with new ones.
The recall should begin in the U.S. on June 1, 2019.
Acura customers in the U.S. may call 888-234-2138 and use recall number Z4L. American Honda customers may call 888-234-2138. Honda's number for this recall is L4M.
Canadian owners may call 888-946-6329.
CarComplaints.com has complaints about the Acura and Honda vehicles named in the timing belt recall.