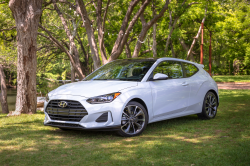 — A Hyundai Veloster recall includes nearly 14,500 cars with driver's side doors that may unintentionally open during side impacts.
The 2019 Velosters have problems with the door latch housings and locking cables that may become damaged.
Hyundai first learned about the problem in August 2018 when the Insurance Institute for Highway Safety performed a side impact crash test on a 2019 Veloster. The door latch housing and locking cable were damaged in the test which caused the door to open.
Additional crash tests were conducted by the National Highway Traffic Safety Administration and engineers from Hyundai, but none of the tests caused the doors to open.
The automaker went forward with an improvement in side impact protection and decided to order the recall to provide additional protection to drivers.
Hyundai says it's unaware of any crashes or injuries related to the door latch and cable problems.
About 12,438 of the recalled cars are in the U.S. and the another 2,053 are in Canada.
The 2019 Hyundai Veloster recall is expected to begin June 14, 2019. Dealerships will replace the driver-side door latch assemblies and the lower channels.
Owners with questions should call the automaker at 855-371-9460.
CarComplaints.com has complaints from drivers of 2019 Hyundai Velosters and other Veloster model years.