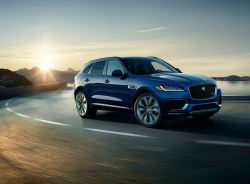 — Jaguar Land Rover is recalling more than 3,000 vehicles equipped with V6 or V8 engines and crankshaft pulley retaining bolts that may fracture and cause engine failures.
2019 Land Rover Range Rover
2019 Land Rover Range Rover Sport
2019 Land Rover Range Rover Velar
2019 Land Rover Discovery
2019 Jaguar F-Pace
2019 Jaguar F-Type
2019 Jaguar XJ
The problem is caused by bolts that were manufactured out of correct specifications. Cracks on the bolts can lead to "hydrogen embrittlement" and once the bolts break the crankshafts are shot.
According to the automaker, the pulley will oscillate for a while once the bolt breaks, but the end result will be a failed engine once the crankshaft nose breaks.
In addition, a loose crankshaft pulley can damage components under the hood and cause serious road hazards.
About the only warnings a driver will have are illuminated warning lights, loud noises, a stalled engine and finally complete engine failure.
Jaguar Land Rover dealers will replace the crankshaft pulley center retaining bolts.
Land Rover owners with questions should call 800-637-6837 and ask about recall number N276.
Jaguar customers may call 800-452-4827 and refer to Jaguar's number for this recall, H181.