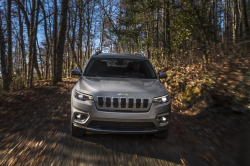 — Fiat Chrysler (FCA) is recalling more than 43,400 Jeep Cherokees because of problems with the acceleration and impact sensors used for the airbag systems.
The 2019 Jeep Cherokee sensors may fail and cause failures of the airbag systems to detect crash impacts.
More than 41,000 SUVs are recalled in the U.S. and nearly 2,300 Cherokees are recalled in the U.S.
Chrysler opened an international investigation in April because engineers found problems with the acceleration sensors on 2019 Cherokees. It was determined the Jeeps may have acceleration sensors that fail because of soldering problems on printed circuit boards.
This can cause a loss of communication between the sensors and the occupant restraint controllers, degrading the output of the airbag inflator output, cause late airbag deployments or complete failures of the airbags to deploy.
FCA says occupants should be on guard for illuminated airbag warning lights which indicate malfunctions of the occupant restraint systems.
The automaker says more than 850 acceleration sensors have been replaced under warranties, but Chrysler is unaware of any crashes or injuries.
The Cherokees were built between July 28, 2018, and September 20, 2018.
The 2019 Jeep Cherokee recall begins August 2, 2019. Jeep dealerships will replace the affected sensors, but concerned drivers should call 800-853-1403.
Chrysler's number for this recall is V63.
CarComplaints.com has complaints from drivers of 2019 Jeep Cherokees.