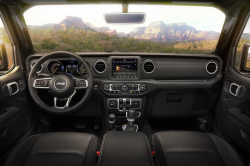 — Chrysler is recalling 52 model year 2019 Jeep Wrangler and 2019 Ram 1500 vehicles because the steering wheels may fall off while driving.
The automaker says the Jeeps and Rams have steering column stub shafts that may break because they weren't properly machined. This can cause the steering wheel to detach from the column.
Fiat Chrysler will replace any steering columns deemed defective.
Jeep Wrangler and Ram 1500 owners should have already been contacted, but customers with questions may call 800-853-1403.
Chrysler's recall number is V29.
CarComplaints.com has complaints about Jeep Wranglers and Ram 1500s.