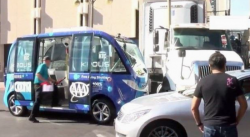 — A minor crash between a tractor-trailer and a Las Vegas self-driving shuttle was partly caused by the shuttle "attendant" not being in a position to take manual control of a device that looks like a video game controller.
The November 2017 collision occurred around noon on South 6th Street in downtown Las Vegas, Nevada, between a tractor-trailer and a 2017 Navya autonomous shuttle carrying 7 passengers and a 38-year-old attendant.
The driverless Navya shuttle, which had no steering wheel, brake pedal or accelerator pedal, was traveling on a 0.6-mile designated loop beginning and ending at a downtown shopping center known as Container Park.
According to the National Transportation Safety Board (NTSB), the 2006 International truck and trailer was backing into an alley west of South 6th Street when it struck the shuttle.
The NTSB normally wouldn't investigate minor collisions, but investigators are trying to learn details about autonomous vehicles and their use on public roads.
According to the NTSB report, the truck driver saw the battery-powered driverless Navya shuttle and assumed it would stop a reasonable distance from the truck and trailer. Sensors from the shuttle detected the truck at 147 feet and continuously tracked the truck as it backed up.
The shuttle was programmed to stop 9.8 feet from any obstacle and the data shows the shuttle began to slow down when it was about 98 feet from the truck.
The attendant pressed one of the emergency stop buttons when the shuttle was 10.2 feet from the truck and nearly stopped. The attendant and passengers waved to get the truck driver's attention but 11 seconds after the shuttle stopped, the right front tire of the truck struck the shuttle.
The NTSB concluded its investigation by finding the actions of the truck driver was the probable cause of the collision, but the autonomous shuttle attendant's not being in a position to take manual control of the shuttle in an emergency also contributed to the collision.
The hand-held controller to manually operate the shuttle was stored in an enclosed space at one end of the passenger compartment. According to investigators, the shuttle attendant never retrieved the controller during the incident.
The thought of vehicles without steering wheels or pedals is a scary proposition to most consumers, but that's exactly what General Motors is trying to do with its autonomous vehicles.