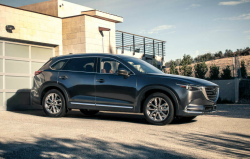 — Nearly 8,300 Mazda CX-9 SUVs are recalled in the U.S. and Canada because multiple systems may deactivate without warning.
The 2018 CX-9s may have wiring harness problems that disable the turn signals, passenger airbags and the engine starting systems. Mazda also says the instrument cluster warnings may give false alerts.
Mazda blames the weak connector terminals on changes to the manufacturing of the front and rear of the harnesses.
According to Mazda, weak wiring harness connector terminals can cause electrical disruptions between different control modules. Different systems can fail based on which connector terminals are affected by electrical problems.
When the frontal passenger airbag fails, it won't deploy in a crash, Failed turn signals mean they won't activate or blink and in some cases a driver won't be able to restart the engine.
Mazda first learned of possible problems in February 2018 when a U.S. field report said, "all dash warning lights came on after starting vehicle, with many Diagnostic Trouble Codes (DTCs) stored."
Returned parts were investigated and engineers confirmed an increase of electrical resistance of the harness connector that caused the illuminated warning lights. Engineers then determined the retention force of the female connector terminal was lower than a typical female terminal.
More than 7,800 CX-9 SUVs are recalled in the U.S., and more than 420 will be repaired in Canada.
The automaker says no crashes or injuries have been reported, but drivers will have no warnings of problems until they occur.
The Mazda CX-9 recall is scheduled to begin in the U.S. July 29, 2019, when dealerships will repair the wiring harnesses.
CX-9 owners may contact Mazda at 800-222-5500 and refer to recall number 3419E.
CarComplaints.com has owner-reported complaints about Mazda CX-9s.