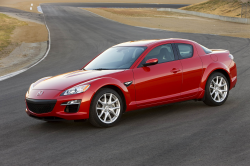 — A Mazda RX-8 recall has been ordered for more than 220 cars that need their passenger airbag modules replaced.
The 2010-2011 RX-8 cars are equipped with frontal passenger Takata airbag inflators that were installed as original or replacement equipment.
The metal inflators can explode and kill or injure occupants, but this latest recall is necessary because the cars have been recalled in the past.
Mazda says although the 2010-2011 cars were previously recalled, they have never been repaired.
Mazda says the recall just got underway for RX-8 owners to get the cars to technicians for airbag inflator replacements.
Car owners with concerns should call Mazda customer service at 800-222-5500 and refer to recall number 2618F.
CarComplaints.com has owner-reported complaints about Mazda RX-8 cars.