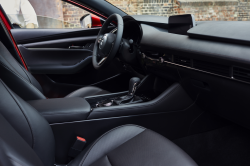 — A Mazda3 recall is necessary because the passenger airbag warning lights may mistakenly turn off even though the airbags are deactivated.
Additionally, the seat belt status indicators for the front passenger seats and rear seats may turn off even though the seat belts are unfastened.
Nearly 28,000 model year 2019 Mazda3 cars are affected by the problems that will leave drivers guessing about the seat belts and airbags.
Mazda says the problems with the warning indicators have no effect on the airbag system operations and no crashes or injuries have occurred. However, the false info could cause occupants to react inappropriately to the warning lights.
An example is a driver being unaware the rear seat occupants aren't wearing their seat belts.
In addition to the issues with the warning indicators, the automaker says occupants will likely notice audible warnings.
Mazda blames the entire problem on incorrect programming of the software used for the warning indicators.
More than 17,000 Mazda3 cars are recalled in the U.S., and more than 10,900 are recalled in Canada.
The Mazda3 recall is expected to begin in the U.S. July 13, 2019, when dealers will replace the passenger airbag/seat belt status indicator assemblies.
Concerned customers may call 800-222-5500 and make reference to Mazda3 recall number 3319E.
CarComplaints.com has owner-reported complaints about Mazda3 cars and many other Mazda models.