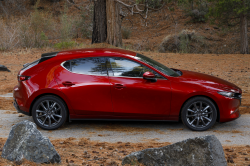 — Mazda is recalling 12,375 model year 2019 Mazda3 cars to repair problems that affect the head restraints.
The problem occurs because of improper installation of the seat cover material on the seatbacks. An occupant will likely know something isn't right when trying to adjust the height of the head restraint.
Mazda says it's also possible an affected head restraint will move around freely without the ability to lock into place.
Mazda learned of the problem in May when a Mazda3 was inspected in Mexico and it was determined the height adjustment of the head restraint wasn't holding. The supplier reported Velcro tape had been improperly applied to the seat cover material.
Changes were made during production by adding a support plate spacer inserted at the bottom of the lock release buttons on the front of the head restraint. Those spacer plates have been used since May 22, 2019, and now dealerships will need to do the same repairs to the recalled cars.
Although no crashes or injuries have been reported, a loose head restraint won't properly protect an occupant but could possibly injure an occupant in a crash.
Mazda says 9,430 of the cars are located in the U.S. and 2,945 Mazda3 vehicles are in Canada.
The 2019 Mazda3 recall is expected to begin September 3, 2019.
If you own a 2019 Mazda3 and have questions about the head restraint recall, please contact the automaker at 800-222-5500 and ask about recall number 3819F.
CarComplaints.com has owner-reported complaints about Mazda3 cars.