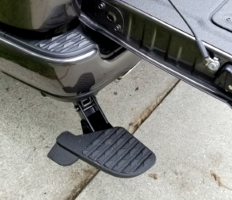 — A Mopar rear step kit recall has been issued for nearly 650 step kits with part number 82215289AB designed for 2019 Ram 1500 trucks.
FCA says the step kit can change the load path through the truck frame during a rear-end crash, causing the rear control arms to buckle and make contact with the fuel tank.
A fire will occur if the leaking gas tank allows fuel to make contact with an ignition source.
The step kit recall is expected to begin October 16, 2019. Ram truck dealers will replace the bed steps, but owners with questions may call 800-853-1403 and refer to recall number V93.
CarComplaints.com has owner-reported complaints about 2019 Ram 1500 trucks.