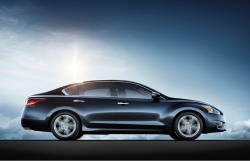 — Nissan Altima door latch problems have caused a recall of 341,000 cars in the U.S. following an identical recall of Altimas in 2017.
The 2015-2017 Altima door latch-lock cables may not have been routed properly in the rear door when the cars were repaired during the 2016 recall.
The cables can interfere with the window regulators and cause the rear passenger doors to unlatch and open. However, the doors will inadvertently unlatch only when the windows are lowered.
The 2017 Altima recall had dealerships modify the door sealing screens by using a harness protector, but in July 2018 the automaker learned about a problem caused by how the latch-lock cable was routed.
Nissan opened an investigation into dealer repair methods used for that one Altima but found no trend. However, Nissan did find complaints that indicated problems after the recall repairs were performed.
The automaker updated the instructions dealers use to route the door latch-lock cables, while new wire harness clips were added to the door panels so the cables will stay in their intended positions.
Nissan warns Altima owners there will be no warnings to indicate problems with the routing of the door latch-lock cables, therefore there is no way to know if the rear doors will stay latched and secured.
The Nissan Altima recall will begin in February 2019 when dealers will use the new clips to secure the cables.
Owners with questions or concerns should call the automaker at 800-647-7669.