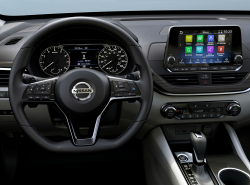 — A Nissan and Infiniti backup camera recall has been ordered for more than 1.3 million vehicles in the U.S. and Canada so that dealerships can update the rearview camera settings software.
2018-2019 Nissan Altima
2018-2019 Nissan Frontier
2018-2019 Nissan Kicks
2018-2019 Nissan Leaf
2018-2019 Nissan Maxima
2018-2019 Nissan Murano
2018-2019 Nissan NV
2018-2019 Nissan NV200
2018-2019 Nissan Pathfinder
2018-2019 Nissan Rogue
2018-2019 Nissan Rogue Sport
2018-2019 Nissan Sentra
2018-2019 Nissan Titan
2018-2019 Nissan Versa Note
2018-2019 Nissan Versa
2018-2019 Infiniti Q50
2018-2019 Infiniti Q60
2018-2019 Infiniti QX30
2018-2019 Infiniti QX80
2019 Nissan GT-R
2019 Nissan Taxi
2019 Infiniti QX50
2019 Infiniti QX60
2019 Infiniti Q70
2019 Infiniti Q70L
In December 2018, Nissan learned of a Nissan Altima lab test that indicated problems with the backup cameras which violated federal safety standards. Engineers opened an investigation and had several conversations with the National Highway Traffic Safety Administration (NHTSA) concerning noncompliance issues.
The automaker says rear visibility laws require rearview camera systems built on or after May 1, 2018, to return to a default image at the beginning of each backing event regardless of any modifications drivers previously selected on the systems.
The problem is a driver may potentially adjust the rearview camera and display settings so the image is no longer visible and the system will retain those settings at the next backing event. This creates the federal safety standard violation.
Considering there are more than 1.3 million vehicles involved, Nissan says it will notify customers in phases so that dealers can update the rearview camera software.
According to the automaker, 1,228,830 vehicles are recalled in the U.S. and 126,195 are recalled in Canada.
The U.S. recall is expected to begin October 21, 2019, but it may take until November 11 before all customers are contacted.
If you own one of the recalled vehicles and have questions, please call Nissan at 800-867-7669 or Infiniti at 800-662-6200. Canadian customers may call 855-835-3854.
CarComplaints.com has driver complaints about the Nissan and Infiniti vehicles.