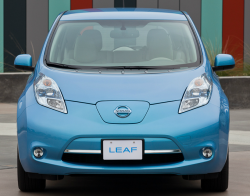 — Nissan LEAF occupancy sensor failures may lead to a federal investigation after a Georgia petitioner asked the government to investigate model year 2011 LEAF cars.
The National Highway Traffic Safety Administration (NHTSA) received the petition to open a defect investigation into about 10,000 model year 2011 Nissan LEAF occupant classification systems.
The petitioner says he took his 2011 Nissan LEAF to a dealership because the vehicle suffered airbag problems with the occupant classification system sensor. The occupancy sensor, also called a mat, is supposed to determine if a small adult or child seat occupies the front passenger seat.
The occupancy sensor should signal the system to disable the airbag if a small adult or child seat occupies the passenger seat, but a failed occupancy sensor will cause trouble with the deployment of the frontal airbag.
A driver will see a warning light indicating the occupant system isn't working correctly, a problem that can allegedly be fixed by replacing the front passenger seat.
The Georgia petitioner says his dealer told him the minimum cost to replace the seat was $3,400 but could be as high as $5,134 if the airbag diagnosis unit needed to be replaced.
The LEAF owner contacted Nissan's corporate offices seeking help but was told the mileage (97,000 miles) on the vehicle was too high to cover the cost of replacing the seat.
The LEAF was included in a 2016 recall of millions of Nissan vehicles because of occupancy sensors, but the 2011 LEAF wasn't included.
NHTSA will evaluate the allegedly defective Nissan LEAF occupancy sensors and determine if an official investigation is necessary.
CarComplaints.com has owner-reported complaints about the 2011 Nissan LEAF and other LEAF model years.