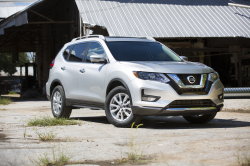 — Nissan Rogue automatic emergency braking malfunctions are under investigation by the federal government as safety regulators granted a petition to investigate more than 800 complaints.
Nissan Rogue automatic emergency braking (AEB) is supposed to warn drivers of an impending frontal crash by using a series of cameras and radar sensors.
The SUV should automatically apply the brakes if a driver does nothing, something that will at least decrease the crash impact.
But according to more than 800 complaints, 2017-2018 Rogues have a habit of slamming on the brakes even though no frontal impacts are about to occur.
In March, the Center for Auto Safety (CAS) petitioned the National Highway Traffic Safety Administration (NHTSA) to open a formal investigation into 2017-2018 Nissan Rogue and Rogue Sport emergency braking malfunctions. The petition says SUVs suffer from defects that cause malfunctions which make driving dangerous.
The petition also says Nissan certainly knows about the AEB problems because the automaker sent dealerships technical service bulletins (TSBs) describing the malfunctions. The automaker also announced "Quality Actions" and a "Customer Service Initiative" based on customer complaints about the braking systems.
However, the Center's petition says Nissan hasn't done enough to fix the malfunctions and doesn't treat the problem as related to safety. The programs created by Nissan are available for vehicles still under the basic warranty periods, and CAS claims this shows Nissan isn't thinking about permanent repairs or what may happen once the warranties expire.
According to multiple complaints, owners have been so frustrated by the automatic emergency braking malfunctions those drivers disabled the safety features, defeating the entire purpose of driving vehicles equipped with the technology.
When the Center filed the defect petition, 87 Nissan Rogue AEB complaints were cited, but NHTSA learned Nissan had received hundreds of complaints from disgruntled Rogue owners.
The government says it's aware of 843 complaints about 2017-2018 Nissan Rogue automatic emergency braking malfunctions, and 14 crashes and five injuries are attributed to the systems.
In addition to the federal investigative action, Nissan has been sued over claims the AEB systems contain defects that cause safety hazards. Two class action lawsuits, one in California and one in Tennessee, name the Nissan Rogue as one of many problematic vehicles.
CarComplaints.com has owner-reported complaints about the SUVs.