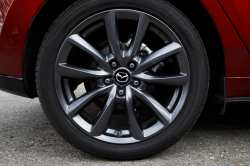 — A 2019 Mazda3 recall for more than 38,000 cars is needed to prevent the wheels from detaching from the vehicles due to loose lug nuts.
The automaker received a report of loose lug nuts from outside the U.S. in April and confirmed other Mazda3 cars in Japan were also affected at an assembly plant.
Mazda determined the problem was caused by a partial gap between the hub bolt head and hub flange of the hub bearing assembly. This caused a loss of torque and eventual loosening of the lug nuts.
Mazda also found other cars had the same problems in Mexico, causing the hub bolt and hub flange supplier to improve the assembly process.
A driver should have advance warning of a lug nut problem by hearing rattling noises before a wheel falls off.
Mazda says no reports have been received about separated wheels, crashes or injuries related to loose lug nuts.
The 2019 Mazda3 loose lug nut recall will begin in the U.S. by August 6, 2019, when dealers will tighten the front and rear lug nuts.
Affected Mazda3 owners with questions or concerns should call the automaker at 800-222-5500 and ask about recall number 3519F.
CarComplaints.com has owner-reported complaints about Mazda3 cars.