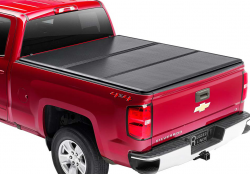 — A Rugged Liner tonneau cover recall has been announced for 8,500 hard tri-fold bed covers sold for these Chevrolet and GMC trucks.
2019 Chevrolet Silverado 1500
2019 GMC Sierra 1500
2020 Chevrolet Silverado 2500
2020 Chevrolet Silverado 3500
2020 GMC Sierra 2500
2020 GMC Sierra 3500
GM says vibrations and wind forces could loosen the tonneau covers manufactured by Rugged Liner and do it with such force they detach from the truck beds while driving.
GM received two reports in March 2019 about hard tri-fold covers that detached from a 2019 Silverado and a 2019 Sierra truck while driving highway speeds.
The automaker quickly learned of three more reports of detached or loose tonneau covers, causing GM to open an internal investigation.
Two more complaints came in during April and the automaker told dealers to stop all sales and installations of the Rugged Liner covers until new attachments could be added.
Those improved attachments are what truck owners can expect once customers receive recall notices.
More than 6,600 of the tonneau covers are recalled in the U.S. while Canada is home to another 1,915 hard tri-fold covers.
Chevrolet and GMC truck owners may contact GM customer service at 586-596-1733 and refer to recall number N192217500.