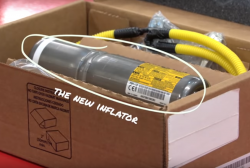 — Takata airbag inflators have caused another Toyota and Lexus recall, this one to repair about 1.7 million vehicles in North America, with 1.3 million of those vehicles needing repairs in the U.S.
2010-2016 Toyota 4Runner
2010-2013 Toyota Corolla
2010-2013 Toyota Matrix
2011-2014 Toyota Sienna
2010-2015 Toyota Scion XB
2010-2012 Lexus ES 350
2010-2017 Lexus GX 460
2010-2015 Lexus IS 250C
2010-2015 Lexus IS 350C
2010-2013 Lexus IS 250
2010-2013 Lexus IS 350
2010-2014 Lexus IS-F
The airbags currently in the vehicles have metal inflators that contain ammonium nitrate without a drying agent added to protect the chemical from moisture. The moisture can destabilize the ammonium nitrate and turn the metal inflator into a grenade full of shrapnel.
Toyota and Lexus dealers will replace the passenger airbag inflators with new inflators (pictured above) or replace the passenger airbag assemblies when recall notices are mailed toward the end of January 2019.
Owners with questions should call 800-255-3987.