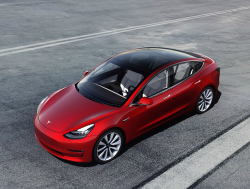 — A Tesla Model 3 recall has been issued in Canada and the U.S. because the driver's side sun visor may be missing airbag warning information required by federal safety standards.
Tesla says 89 cars are recalled in the U.S. and 12 Model 3 vehicles are recalled in Canada.
The recall of 2019 Model 3 cars will require that dealers inspect and possibly replace the sun visors.
Tesla Model 3 customers may call 877-798-3752 and ask about recall number SB-19-15-003.