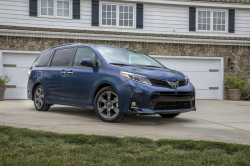 — A 2019 Toyota Sienna recall will have dealerships repairing 270 vehicles in the U.S. and 96 minivans in Canada with faulty welds on the passenger-side front doors.
Toyota says the Sienna minivan airbag sensors may be affected by the faulty door welds and may cause the airbags to fail.
The problem can also cause the passenger-side front seat and curtain shield airbags to deploy for no reason.
Toyota says U.S. owners will be notified in June 2019 when dealerships will replace the passenger-side front door sub-assemblies.
Customers in the U.S. with questions should call Toyota at 800-331-4331.
Read owner-reported complaints about Toyota Sienna minivans.