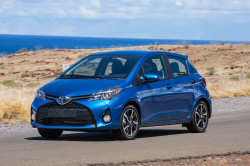 — A Toyota Yaris recall has been issued for 43,000 cars in the U.S. and 17,500 vehicles in Canada because the airbags may fail to deploy.
Toyota says the 2015-2017 cars are equipped with side airbag sensors installed in the front doors and wire harnesses that connect the sensors to the airbag control units.
The harnesses may corrode and cause the airbag warning lights to activate. But the real dangers arise from the side and curtain shield airbags that can deactivate or deploy in ways that won't protect the occupants.
Toyota Yaris customers will receive recall notices in June 2019 about how dealerships will replace the wire harnesses in one or both front doors.
U.S. drivers of Toyota Yaris cars may call the automaker at 800-331-4331, and Canadian owners can reach Toyota at 888-869-6828.
CarComplaints.com has complaints about the cars named in the wire harness recall.
Toyota Yaris - 2015 / 2016 / 2017 / All model years