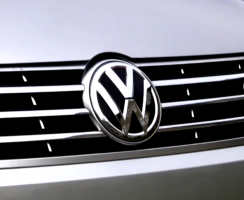 — A Volkswagen airbag control unit recall has been ordered for more than 34,500 model year 2015-2016 Tiguan and CC vehicles, all part of multiple recalls from various automakers for the same airbag problems.
VW says the Tiguans and CCs are equipped with airbag electronic control units (ECUs) that may have defective power supply capacitors that cause inadvertent airbag deployments, or cause the airbags to completely fail in crashes.
The airbag control units were supplied by ZF-TRW, a company involved in a huge investigation of 12 million vehicles in the U.S., although Volkswagen isn't named as an automaker impacted by the federal investigation.
VW says electrical overstress can occur and cause a deviation at the 5-volt power supply when the airbag control unit capacitor fails.
Volkswagen learned of the problem in September 2017 when one report came in from the field, followed by another report in May 2018. In July 2018, ZF confirmed the airbag control unit capacitor problem, then a third field report was received in September 2018.
The automaker says a driver will likely notice an illuminated airbag warning light if the airbag control unit fails. A driver should immediately contact a dealership if the light activates.
More than 6,700 of the vehicles are recalled in Canada, and more than 27,800 are recalled in the U.S.
The Tiguans and CCs will receive new software that detects any increase of equivalent series resistance, then based on the results VW dealers may replace the airbag control modules.
The recall is expected to begin September 13, 2019. Owners may call 800-253-2834 and use Volkswagen's number for this recall, 69Z5.
CarComplaints.com has owner-reported complaints about Volkswagen Tiguans and Volkswagen CCs.