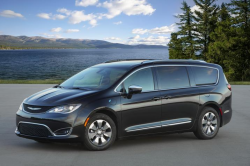 — Chrysler Pacifica Hybrid fires have caused a recall of more than 27,600 minivans due to 12-volt battery connection problems.
The 2017-2020 Chrysler Pacifica Hybrid 12-volt batteries power auxiliary systems such as the radios and remote control garage door openers.
According to Fiat Chrysler (FCA US), a "small number" of fires have been reported, all in Canada except one in Minnesota. In addition, Chrysler says it is aware of one minor injury.
The automaker didn't release much information, but the problem is the 12-volt battery connection, not the high-voltage battery.
Chrysler says owners should not park their Pacifica Hybrid minivans inside structures or near other vehicles, and customers should not "place wet items or liquids that may spill in the second-row seating area."
Out of the estimated 27,634 recalled minivans, about 3,370 are in Canada and about 1,684 are outside North America.
According to Chrysler, as soon as June 16, Pacifica Hybrid customers should be able to check if their minivans are recalled by visiting recalls.mopar.com.
If the Pacifica Hybrid is included in the recall, a customer may bring the minivan to a dealership to have the van inspected, even if the owner hasn't received a recall notice.
Chrysler Pacifica Hybrid customers in Canada may visit recalls.mopar.ca.
FCA says it will begin mailing official recall notices during the week of June 22, advising Pacifica Hybrid owners to get the minivans to dealers. If technicians don't find evidence of 12-volt battery connector corrosion, the connector will be tightened and the minivan released to the owner.
However, if evidence of corrosion is found, Chrysler will hold onto the minivan and provide a loaner vehicle to the customer.
According to Chrysler:
"Subject to the results of ongoing tests by FCA, all affected customers may receive a second notice to schedule additional dealer service. Vehicles held by dealers will be remedied accordingly and then returned to their owners."
Chrysler Pacifica Hybrid owners in the U.S. may call FCA at 800-853-1403, and Canadian customers may call 800-387-9983 (French) or 800-465-2001 (English).
CarComplaints.com has owner-reported complaints about Chrysler Pacifica Hybrid minivans.