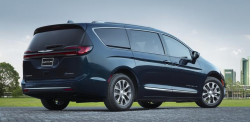 — FCA US has recalled more than 67,000 Chrysler Pacifica Hybrids at risk of stalled engines from the transmission wiring connectors.
Chrysler says the 2017-2023 Pacifica plug-in hybrid electric vehicles (PHEVs) may be equipped with internal wiring connectors that short-circuit.
A short-circuit can suddenly shut down the engine.
A crash could easily occur if the minivan engine suddenly shuts down and the vehicle loses motive power without warning.
The automaker opened an internal investigation in August 2022 into why 2017-2023 Chrysler Pacifica Hybrids were losing motive power.
As of January 9, 2023, FCA was aware of six customer assistance records, 242 warranty claims and 59 field reports between February 17, 2018, and November 1, 2022.
However, Chrysler is unaware of any crashes or injuries.
Chrysler Pacifica Hybrid owners will receive recall letters in March 2023.
FCA dealers will update the power inverter module (PIM) software and if necessary update the instrument panel cluster (IPC) software.
Owners of 2017-2023 Pacifica Hybrid minivans may call 800-853-1403 and ask about recall number 03A.