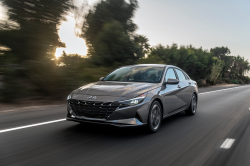 — Hyundai has recalled 38,000 Elantra Hybrid vehicles that may suddenly accelerate once the brake pedals are released.
The 2021-2023 Hyundai Elantra Hybrids may have software errors in the motor control units.
Unintended acceleration after releasing the brake pedal will come as a shock to a Elantra Hybrid driver.
"The motor control unit ("MCU") software may detect a transmission / drive motor synchronization fault while driving triggering a "fail-safe" condition that temporarily results in slow, unintended acceleration after release of the brake pedal." — Hyundai
In August 2022, Hyundai received a complaint about unintended acceleration of a 2022 Elantra Hybrid, causing the automaker to open an investigation.
By February 2023, Hyundai was aware of eight complaints alleging Elantra Hybrid unintended acceleration in the U.S.
In May 2023, engineers still had not replicated the alleged problem through various test drives covering 2,000 miles.
In July, engineers determined the problem is the result of a "fail-safe condition that is activated upon detection of a transmission/drive motor synchronization fault by the Hybrid Power Control Unit's (HPCU) motor control unit."
However, Hyundai says the brakes and brake override systems remain fully functioning.
Hyundai Elantra Hybrid recall letters will likely be mailed October 17, 2023, and dealerships will update the motor control unit software.
Hyundai Elantra Hybrid owners may call 855-371-9460. Hyundai's number for this unintended acceleration recall is 248.