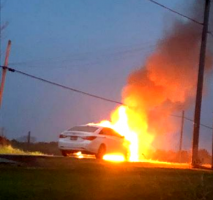 — Another Hyundai ABS (anti-lock brake system) recall has been announced for nearly 2 million vehicles at risk of fires from ABS module leaks.
Hyundai says the ABS module can leak brake fluid internally and cause an electrical short-circuit which can cause an engine fire. A fire could occur whether the vehicle is in motion or parked.
Hyundai is warning owners of these vehicles to park outside and away from anything that can burn, namely structures and other vehicles.
2011-2015 Hyundai Elantra
2011-2015 Hyundai Genesis Coupe
2011-2015 Hyundai Sonata Hybrid
2012-2015 Hyundai Accent
2012-2015 Hyundai Azera
2012-2015 Hyundai Veloster
2013-2015 Hyundai Elantra Coupe
2013-2015 Hyundai Santa Fe
2014-2015 Hyundai Equus
2010-2012 Hyundai Veracruz
2010-2013 Hyundai Tucson
2015 Hyundai Tucson Fuel Cell
2013 Hyundai Santa Fe Sport
Hyundai has been dealing with overheated ABS module problems since at least 2019 when thermal incidents and fires were damaging the modules to the point a cause wasn't found.
Hyundai opened investigations and in 2021 the automaker found evidence of internal brake fluid leaks.
A third-party engineering company was hired by Hyundai to assist in finding a root cause of the leaks.
That company eventually discovered brake fluid contamination was present on the printed circuit boards of Hyundai ABS modules. Additionally, both O-rings were found contaminated with surface debris to the point one O-ring was deformed.
By December 2022, the engineering company, "confirmed that the motor shaft seals may be gradually losing hardness."
According to Hyundai, there have been no crashes or injuries caused by the ABS modules.
"To date, twenty-one (21) related vehicle fires and twenty-two (22) thermal incidents (i.e. smoking, burning, melting, etc) have occurred in the U.S. based on reports received from June 15, 2017 through June 1, 2023." — Hyundai
About 327,000 of the vehicles are recalled in Canada.
Again, Hyundai owners are warned to park outside until the vehicles have been repaired. Dealers will replace the ABS fuses.
Hyundai ABS recall letters are expected to be mailed November 21, 2023, but owners with questions can call 855-371-9460.
Hyundai's ABS recall number is 251.