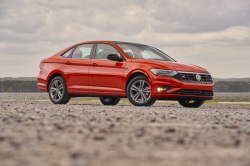 — Volkswagen Jetta ignition switch problems caused VW to announce a recall of about 48,000 cars equipped with conventional ignition switches.
The 2019-2020 VW Jetta ignition switch may fail, especially in high temperature environments.
"In vehicles equipped with a conventional ignition switch, the polyfuse can fail, particularly when the vehicle is operated in high temperature environments." — Volkswagen
A failed polyfuse can cause the engine to stall and the electrical system can shut down. Engineers are still trying to determine the root cause of the problem, but a Jetta driver may receive warning of a problem.
According to VW, there are two warnings that will appear in the instrument cluster: "Ignition switch off, safely stop the vehicle," and "Starter system faulty, please service vehicle."
Volkswagen discovered the problem during routine monitoring of the field when a Jetta ignition switch failed. VW continued to monitor the field and saw a "large number of field claims" regarding failed Jetta ignition switches.
That "large number" refers to 2,654 warranty claims filed between August 2019 and August 2023.
VW Jetta ignition switch recall letters are expected to be mailed October 27, 2023. Volkswagen dealerships will replace the ignition switches.
Jetta owners may call the automaker at 800-893-5298. Volkswagen's Jetta ignition switch recall number is 28H7.