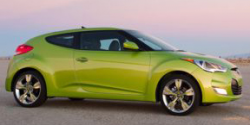 — Following a federal investigation into why sunroofs were exploding in 2012 Hyundai Veloster vehicles, Hyundai today announced they are recalling Veloster vehicles manufactured from November 1, 2011, through April 17, 2012.
According to official documents, Hyundai believes the sunroof glass may have been damaged during mechanical installation at the factory. Any damage to the glass can cause it to fracture and fail under pressure . (Read Why do Sunroofs Explode?)
The recall will begin during January, 2013. Hyundai dealers will inspect the sunroof and replace the glass assembly, if needed. Owners may contact Hyundai at 800-633-5151 and reference recall number 108.
This is the second recall today of the 2012 Hyundai Veloster. Hyundai earlier announced certain Veloster vehicles were under recall because of parking brake problems.