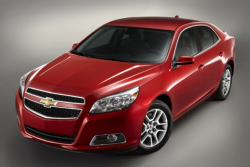 — It's only 2012, but General Motors is already recalling certain 2013 model year Chevrolet Malibu's made from October 24, 2011, through March 31, 2012.
GM says the sensing and diagnostic module (SDM) could reprogram itself after you hit the brakes hard.
To us non-mechanics, that means if we slam on the brakes during a hard turn which causes the sensor in the Malibu to think the car might roll over, the roof rail air bag could deploy.
Along with a blow to the head from the air bag, GM says the air bags and seat belt pretensioners might not deploy during a crash, the exact time you need them to deploy.
GM says the recall should begin about Jun 1, 2012. Your dealer will reprogram the module for free, hopefully before you have to slam on the brakes.