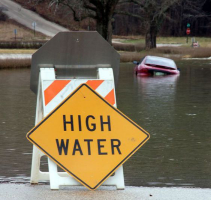 — The National Insurance Crime Bureau announced estimates for the number of vehicles damaged as a result of the massive storm Sandy, and while the numbers are high, the total will probably rise over time.
Hurricane Sandy's Impact
The current total of vehicles damaged by Sandy stands at 230,000, according to claims processed by insurance companies. New York had the most with 130,000 damaged vehicles while New Jersey had 60,000.
The remaining 40,000 were reported from Connecticut, Delaware, District of Columbia, Maine, Maryland, Massachusetts, New Hampshire, North Carolina, Ohio, Pennsylvania, Rhode Island, Vermont, Virginia and West Virginia.
Although it can't be determined exactly what damage the vehicles suffered, it's expected that many were submerged in water, possibly for days.
Typically, some of these flood-damaged vehicles will appear for sale across the country, all with a clean title. Insurance companies do what they can to make sure that doesn't happen. In a perfect world, the title shouldn't be clean because once an insurance company totals a car, the title should say that. The records should also say if the vehicle had water damage, even if it wasn't totaled.
However, if a seller in New York can get a clean title, they could sell the vehicle in another state and the buyer would have no idea the vehicle had been flooded.
How to Tell if a Car Has Been Flooded
There are ways to learn if a vehicle recently went swimming. If you don't have access to the vehicle for inspection, try VINCheck, a free service that covers most vehicles.
If you have physical access to the vehicle, here are a few ways to recognize a flood-damaged car.
Make sure the gauges, lights, and anything electrical is working properly. If a car was flooded to the dash, the vehicle probably suffered severe water damage to the electrical components in the dash.
Is the vehicle an older model but with new carpet or upholstery?
Look for rust, especially under the seats, dash, and pedals.
If the water was dirty, you might find dirt or sand under the trunk carpet.
Does the vehicle have a line all the way around the outside on the paint? That's a water-level line.
Does the inside of the car smell like a mold factory?
While the above tips will help, the smartest thing to do is have a qualified mechanic inspect the vehicle, including putting the car on a rack so the complete undercarriage can be inspected for unusual levels of rust.