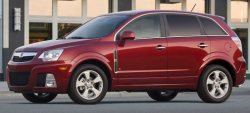 — If you drive a 2012 Chevrolet Captiva Sport, be extra careful if you park on an incline and think the parking brake will make all well and safe.
General Motors has announced a recall of certain 2012 Chevrolet Captiva Sport vehicles because the parking brake might not work. If that happens, the last thing you might see is your vehicle disappearing down the hill.
According to the National Highway Traffic Safety Administration, the cable might not be properly attached to its connector and could easily come lose.
Affected vehicles were manufactured between April 26, 2012, and May 17, 2012.
Captiva Sport owners should contact GM at 866-694-6546. The recall is expected to begin about July 18, 2012.