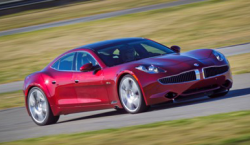 — Fisker Automotive is recalling certain model year 2012 Fisker Karma vehicles manufactured from June 15, 2011, through July 9, 2012.
A manufacturing defect in the low temperature cooling fan can cause an electrical short.
The recall comes after an investigation by Fisker that showed an August 10, 2012, car fire originated where the cooling fan is located.
The Woodside, California, vehicle fire had safety regulators worried the Lithium-ion battery pack might have been the source.
However, the investigation located the ignition source to the left front of the Karma, forward of the wheel, where the low temperature cooling fan is located.
The final conclusion was that this sealed component had an internal fault that caused it to fail, overheat and start a slow burning fire.
Fisker will notify owners and dealers will remove two low temperature cooling fans and replace them with one low temperature fan.
The recall is expected to begin on August 27, 2012.
Owners may contact Fisker at 1-855-575-7577 and refer to recall number 520120016.